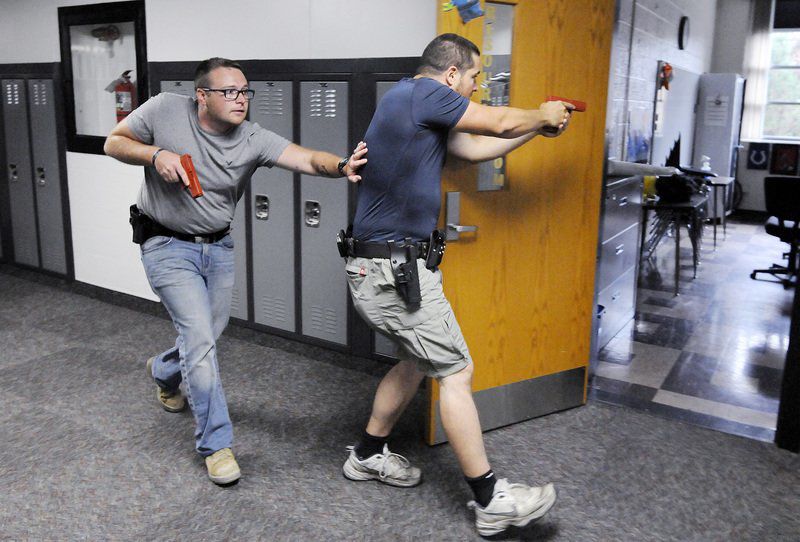 Active Shooter Training
Client Focused
Individual Training
Corporate Training
Certification Program
Online or Onsite
Choose the training that's right for you. Select an option below:
Key Benefits of Active Shooters Preparedness:
Threat assessment preparedness and prevention checklist.
Conduct active shooters drills all across the company.
To prepare for violent workplace incidents.
Determine, prepare, and prevent areas with vulnerability.
Active Shooter Training and Legislation in Los Angeles, California
Across the country, active shooter training is among one of the top trending topics that Human Resources professionals are weighing in on as being about as important to workplace safety as Covid-19 protocol can be for keeping employees and others alive, safe and ready to return to work. Although not mandated by current legislation, should active shooter training become a mandatory training for all businesses, or just those with over 100 employees? We are teaching active shooter drills to children in school. Click on the email sticky button that pops out to the right and drop me a line to let me know what you think.
Most of us can be in the dark when it comes to the intentions of our fellow co-workers. Who knows what they are thinking? Although we are not the first to develop effective methods of mitigating active shooter attacks, we are among the best brokerages in the country to also provide active shooter training and defensive countermeasure tactics. Providing businesses with the knowledge base to improvise, adapt, and overcome when confronted with an active shooter situation is powerful. Our methods provide real life results and prepare your employees to think fast and how to handle an active shooter or violent attack. Nowadays active shooter situations are not uncommon. Our lessons improve chances of survival during and after an attach. Training is provided to all participants who work with or are affiliated with the entity that purchases an Active Shooter and Assailant Insurance policy. Once they enroll in one of our Active shooter training certification programs, be prepared to think fast. Individual or Corporate training is currently only available virtually online and is the preferred method train. Some organizations may prefer training to be physically on site. Contact us to see if that is a viable option for your organization. The fact is that our Active Shooter drills prove to be effective and provide lifelong skills to all those that participate.
Activeshooterinsurance.us is a subsidiary of Laurence Taylor Insurance Services which is a solely Veteran owned company in Los Angeles, California. We are the leading agency provider of Active shooter insurance also offering training in Los Angeles, and throughout the foothills of Burbank, Glendale, and Pasadena U.S.A. At Active Shooter Insurance, we can consult on everything you'll need to help your employees and company survive the unthinkable. From basic awareness and preparedness training to advanced counter attack measures and tactical response training. We create specifically tailored programs for your business regardless of your industry. Many of our course instructors prior military and law enforcement personnel dedicated to give you the skills to ensure your personal safety and survival.
If you or your company is based anywhere in the contiguous United States & would like to take advantage of our active shooter training, the time to contact us is now!
Apply Now
What You Should Know About Active Shooter Drills At The Workplace?
Is your organization or workplace conducting active shooter drills yet? If not, it's the right time to work this into your overall emergency preparedness plan. News of Gun violence and Active Shooters doesn't shock Americans as much any more. American children were scared once upon a time when they were first instructed to prepare for the Atomic bomb being dropped and how they were instructed to hide under their desk post WWII and throughout the Cold War. As a nation we adapted well to the risk. Besides Active shooter insurance, U.S. children also go may go through earthquake, hurricane, tornado and other real life or death awareness skills and training. Over the last decade, children in U.S. schools who are participating in active shooter drills have become more comfortable to the routine and regular active shooter and terrorist drills. What are your thoughts on this? Click on the email sticky button to the right and drop me a note.
­­­­
Where and when an active or mass shooting takes place is random and unpredictable. However it's easy to see the number of these events which once seemed rare and isolated are growing steadily and becoming commonplace. They have become a "foreseeable event". The FBI has identified around 277 active shooter incidents resulting in 2,430 casualties from 2000-2018 in the US. Active shooters are actively engaged in killing or attempting to kill people in confined and crowded areas. One of the two largest Mass Shootings in recent history took place on June 12th, 2016 at Pulse Nightclub in Orlando Florida; where 29 year old American Born, Omar Mateen killed 49 and wounded 53 people. The Pulse Nightclub shooting is second only to the largest Mass Shooting on US soil to date which took place on October 1st 2017. For unknown reasons 64 year old former postal worker and high stakes gambler, Stephen Paddock, opened fire from his room on the 32nd floor of the Mandalay Bay Hotel & Casino in Las Vegas, Nevada. He fired on about 22,000 concert goers attending the Route 91 Harvest Festival. On September 30th 2020 a court approved an $800 Million dollar settlement of MGM Resorts International and their insurance carriers to more than 4,400 families and victims. Naturally, more insurance companies have financial fears and concerns involving future claims of this magnitude and they're doing whatever they can to close their liability loopholes by modifying their policy language. This is exactly why this specific niche coverage is so very important to businesses going forward.
It is necessary to create an Emergency Action Plan (EAP) and to conduct regular active shooter training meetings and drills to address the graphic horrific reality of these types of situations and moreover to minimize the injury and loss of life these threats pose. If your company is interested and ready to employ active shooter drills, pleased contact us now!
Apply Now